Alabama's new secretary of state on Tuesday announced the state's withdrawal from a 32-state voter registration partnership, a data-sharing operation that aimed to maintain accurate voter rolls but has sometimes become the target of conservative anger and conspiracy theories.
A day after he was sworn in, Secretary of State Wes Allen sent a letter to the Electronic Registration Information Center, a nonprofit organization that connects 32 states and the District of Columbia, saying the state would no longer be involved in sharing voter registration information.
"I promised the people of Alabama that severing our state's relationship with the ERIC organization would be my first act as Secretary of State," Allen said in a statement. The letter said Alabama would stop transmitting data immediately.
The Republican, who pledged to withdraw from ERIC during his campaign, cited privacy concerns for the decision on Tuesday.
COLLEGE STUDENT FAILS, BEATS 'FORCED INDOCTRINATION': 'COLLEGE INDUSTRIAL COMPLEX' SELLS A BIG LIE
"The disclosure of private information by Alabama citizens, including underage minors, to an outside organization is troubling to me and to people I've heard from while traveling across the state over the past 20 months," Allen said.
The database was created as a tool to keep accurate electoral rolls and to combat fraud by letting states know when someone moves, dies or registers elsewhere, but has sometimes been targeted by critics.
In November, former Secretary of State John Merrill criticized Allen's intention to withdraw. He then said that ERIC provides information that Alabama would otherwise not have access to – such as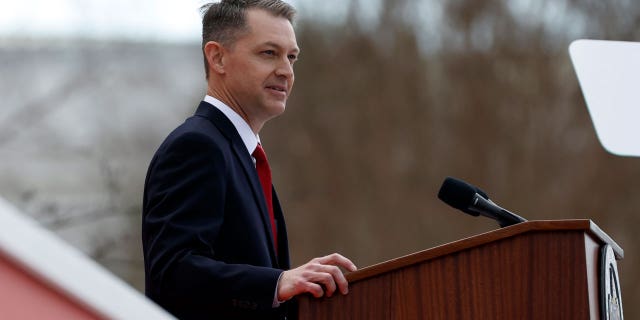 "I trust that he has evaluated this situation and is making the decision based on what he believes is in the best interests of the state of Alabama," Merrill said Tuesday.
The issue of participation in the ERIC has been raised in at least one other country. The Republican nominee for Arizona Secretary of State said during the campaign that he would retire from the ERIC if elected, but he lost. Louisiana withdrew earlier this year.
However, another Republican lobbied to join the partnership.
CLICK HERE TO GET THE FOX NEWS APP
Georgia's Foreign Minister Brad Raffensperger, also a Republican, proudly stated in blunt speeches that the state had joined ERIC. Raffensperger said in 2019 that this would be a huge step forward for the integrity of Georgia's electoral rolls.
According to the organization, the following states currently participate in ERIC: Alabama, Alaska, Arizona, Colorado, Connecticut, Delaware, Florida, Georgia, Illinois, Iowa, Kentucky, Maine, Maryland, Massachusetts, Michigan, Minnesota, Missouri, Nevada, New Jersey , New Mexico, Ohio, Oregon, Pennsylvania, Rhode Island, South Carolina, Texas, Utah, Vermont, Virginia, Washington, West Virginia and Wisconsin. The District of Columbia is also a member.