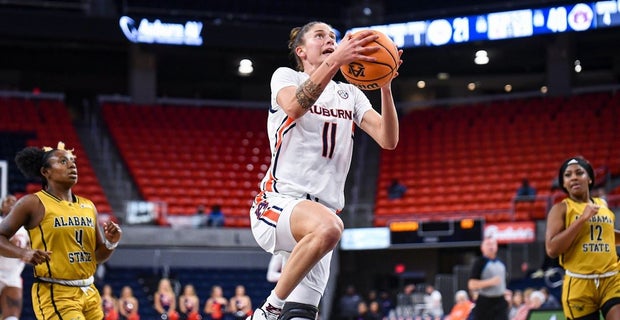 AUBURN, Alabama — Redshirt student Romi Levy came off the bench for her first double-double of her career as the Auburn women's basketball team defeated Alabama State 88-49 Sunday afternoon at Neville Arena.
The Tigers (3-1) shot a best 50.7 percent of the season and got plenty of performance from bench players who scored nearly half of Auburn's points. All 13 Auburn players scored.
"I told our starters I'm not going to wait for you to play hard," said Auburn coach Johnnie Harris. "I went to the bench and found some people who wanted to play. I challenged them after the last ball game that I needed more. Sania (Wells) gave me more, Romi came in and we all know Romi can score, but what I absolutely love is that Romi fights and gets on the boards, that's what we need.
Levy finished with a career-high 16 points and 11 rebounds. She also had three steals, two assists and two blocks in just over 20 minutes. Auburn is 21-0 all-time against Alabama State.
It was only her second appearance of the season after missing the entire 2021-22 season with a knee injury, and she handed in a career evening.
"I've worked so hard," Levy said. "I had to keep reminding myself to be patient and my time would come. It has been a long journey, many ups and downs. But I still have to work hard. I'm not there yet But I'm happy now."
Aicha Coulibaly led all goalscorers with 21 points and had a career-high six steals; She also had seven rebounds. Sania Wells hit double digits for the second time this season with 10 points left with a pair of blocks. And freshman Sydney Shaw put on a strong performance with eight points, six assists and two steals at team level.
Auburn was 36 of 71 from the floor and hit eight 3-pointers, doubling their previous season high. The Tigers also controlled the boards 43-32, turning 26 ASU turnovers into 27 points. The Tigers' bench nearly matched the starters' feat with 42 points of their own as every player on the team played at least five minutes, with 12 of 13 playing 10-plus.
A 22-11 lead in the first quarter turned into a 42-23 half-time advantage as the Hornets faced early foul problems while Auburn scored 64.3 percent in the second period. ASU would never get closer than 16 points, and the Tigers shot 60 percent in the fourth quarter. Junior Carsen McFadden bowed out from the win with her first 3-pointer of her career in the last minute. The Tigers will face No. 9 Indiana on Friday at 7:45 pm CT and Colorado State on Saturday at 5:30 pm CT in the Las Vegas Invitational. Both games are played at The Mirage Resort & Casino on the Las Vegas Strip.