By the time Khalifa Keith When he received a scholarship offer from Tennessee less than a month ago, he already knew where he wanted to go. It didn't matter that he had been engaged in Kentucky since July.
The Class of 2023, running back from Parker High School in Birmingham, Alabama, announced Sunday afternoon that he has committed to the Vols and picked Tennessee less than two weeks after his official split with the Wildcats. He revealed his final choice a week after informing the Vols coach Josh Heupel's staff of his decision during his weekend visit for Tennessee's home finals against Missouri.
The 6-foot-1, 225-pound Keith gave the Vols their 22nd signing for the class of 2023 and their first by a scheduled running back, despite being a four-star athlete signing Cameron Seldon from Heathsville, Virginia could also feature in Tennessee's backfield plans. Former running back engagement Will Stallings from Concord, California, parted ways with the Vols on Tuesday.
Keith visited Tennessee twice earlier this season, attending home games against Florida and Alabama, and enticing the Vols' interest for weeks before eventually receiving an offer from them on Oct. 21. He returned to Knoxville with his family last weekend to finalize his decision.
"Ever since I retired from Kentucky, my thoughts have been on Tennessee," Keith told GoVols247 before publicly announcing his final choice. "Nothing against Kentucky – you know what I'm saying – great coaches, great staff and stuff like that. But I felt like Tennessee was my home.
"That was my home. It was a home for my family. …Once I got the OK from them, it was about time."
South Carolina, Mississippi State and Miami have also made offers to Keith since mid-October, and he visited the Gamecocks last month. But he didn't feel the need to explore other options after announcing his de-signing from Kentucky on Nov. 7.
Tennessee began to show interest in him a few weeks before he attended the Vols for the first time on September 24th. He said he was "all in Kentucky" at the time, but his first trip to Tennessee got him thinking.
"It was like, man, can't nothing change my mind — you know what I'm saying? —when I went to Tennessee, (but) I knew I still wanted to enjoy the recruiting process," said Keith, who is ranked No. 60 in the 2023 class in reverse by 247Sports. "You only have to go through it once, so I came to the Florida game and I was like, 'Oh, that's a different vibe. It's pretty much different here compared to Kentucky.'
"I still went there with an open mind, but I'm still connected to Kentucky right now. But it was a shock. It was really a shock to see that atmosphere, the amount of love the coaches gave me – even when I didn't even have the offer, the amount of love they gave me. That was the key to it."
While his first trip to Tennessee impressed him, he said "maybe it was just a one-time thing." But when he returned to the Vols' win over Alabama three weeks later, the atmosphere and attention he received from Heupel's staff, including the running backs coach Jerry Mackstood out even more.
"When I went up there (for the) Florida game, I went up there still open-minded for Kentucky," Keith said. "I thought I like that. I thought let me get back to the 'Bama game and see what they're talking about. And (it impressed me) not even because they won and stuff like that – just during the game and how much love they showed.
"Think about it: I didn't even have the offer back then. I didn't have the offer and the amount of love they showed – coach Heup spoke to me in the middle of the field. He pulled me aside alone and talked to me, (and) the offensive coordinator (Alex Golesh). All the coaches (were) up to me, shook my hand, had conversations with me, showed interest in me, talked about me being the guy they want.
"I really felt loved. So, after that game – after the Bama game – I was just like, wait a minute. Let me really consider that."
Just six days after Tennessee's win over Alabama, Mack traveled to Birmingham to visit Keith's school and see him play in person. While Mack was there, he made Keith the offer he'd been waiting for.
"When I got this offer," Keith said, "I pretty much knew it."
Tennessee coaches have made it clear to Keith that he could be an important part of the Vols offense.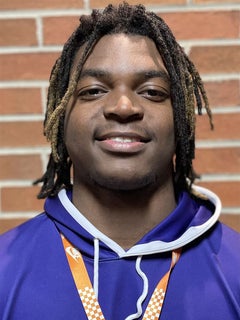 "They want me to play that big back role," he said. "Like I said, I can get them 3 and 4 yards. If we're in the red zone like we're going to hit the rock — Tennessee hits the rock — they're looking for a strong, violent runner, and I feel like I can have a big impact on this offense.
"I will continue to develop on and off the field. I have a great coach, Coach Mack. I have a feeling that since he's a (former) head coach and offensive coordinator at Tennessee's running back coach, he'll really get the hang of it. He knows the game so I have a feeling he will put me in the best position to succeed. …
"I think I can really (help). I think I'm really going to have a big impact. Like I said, I'm a violent runner. I'm a physical runner. It's going to take a while to absorb the insult, get used to things and stuff like that. But once I start rolling, I will start rolling. I have the feeling that I can help the offensive a lot."
Keith said he plans to join the Vols after graduating from Parker in May. Though he won't be an early bird, he said he will finalize his decision during the early signing period, which begins December 21.
He doesn't expect to change his mind again.
"Man, that's it for me. Like I said, Tennessee is my home," he said. "It's a place I want to be. It is a place for me and my family where we will feel comfortable. It feels like home to them. This is where I want to be and I'm not going anywhere else."