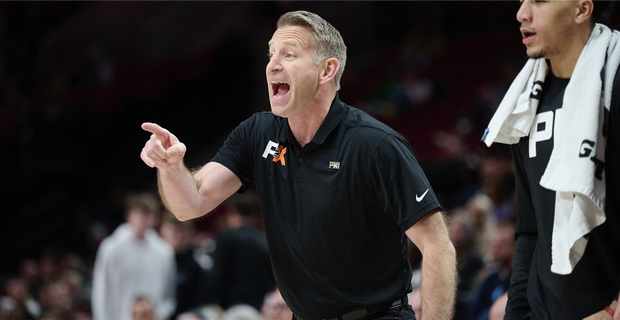 The Alabama men's basketball team defeated No. 12 Michigan State 81-70 in the first round of the Phil Knight Invitational Thursday night in Portland, Oregon. The Crimson Tide (5-0) was led by star newcomer Brandon Miller, who led all scorers by 24 points and was 4-of-7 from 3-point range. After the game, Miller, senior guard Jahvon Quinerly and head coach Nate Oats spoke to reporters via Zoom. Below is a full transcript of everything they said after a big win.
Nate Oats: "It's a great win for us. It's a tough team. They could easily have gone into this game 4-0. The way our boys reacted I thought we had a great finish in the first half. We had a really good opening for four minutes, held it to two points and finished the first half well. We opened the thing. I thought we obviously got into their lack of depth without them having a couple of guys in the rotation. We could wear them down a bit.
"And credit to them, they hit some hard threes, got to the free throw line a couple of times and were able to stay in the game and make it a little close after we opened to 18 at some point, I think. It would be nice to close it a bit better but we beat them by one in the second half. It's the first game we've had out rebounds all year, but they really hate rebounds. We didn't shoot it terribly, but we obviously didn't get that many three-pointers. They did a good job defensively by not letting us fold as many.
"It's a quality gain. We're headed in the right direction. Defensively we preached to our boys that we have to be careful. The offense will take care of itself. We only had 10 turnovers which is great for us. We had turned the ball around a little too much. So we took care of the ball. We made free throws on the course and stopped when necessary. So a big win for us."
Oats on Brandon Miller…
"He's huge. He's talented. He can fire shots. Of course, the threesome at the end of the half gave us a big momentum. I thought he took some hard shots early on. He's the only guy that does threesomes. If you look at that we did eight threes that night – he had four of them, Nimari had two and then Clowney and JQ had one each. We usually take a lot of threesomes. He was the one who could undress and do them tonight, so that was great.
"But he also led us in rebounding and won the blue collar award. Had deflections, rebounds, also made defensive plays. So not only does he shoot the ball and play well, he also came downhill, came to the free throw line, converted on the free throw line. All in all he showed a pretty good game. He has to play well so we can do our best and he did that."
Oats on Jahvon Quinerly…
"The three, it was big. He had the big assist when Nimari hit the three when we opened things up. He came downhill, her defenses collapsed. Even a few games where he didn't get an assist, the defense broke down and we were able to get an offensive rebound. He's slowly feeling better again. It's against a high-level defensive team, a tough team and he's done what he's doing. He gets in the paint, he breaks down defense, he makes the right readings, he puts the ball where it needs to go and opens it all up for us. It was great to have him there at the end to finish the game. I thought he played great.
"I still feel like he's not 100 percent in sync. A few turnovers in the transition are just not his thing. He didn't catch the ball on the one, he took Brandon a little too far on the one, but he comes. He'll be there pretty quickly I think. We need him here this weekend. He gives us a lot more depth, he gives us a lot more playmaking. Sears played the ball a little more. We need to let Sears shoot a little better. But I think JQ playing the way he did can give Sears a few more minutes without the ball.
Jahvon Quinerly on maintaining composure after Michigan State whittled it down to single digits…
"We knew we were going to get a big boost from them so we expected some adversity and I think like our veterans, Noah, some of our guys who've been in big games like we spoke to the guys in of the group, we were very level headed tonight. And I just feel like we weren't ruffled at all when they went on runs and that just goes to show what we're talking about in practice. I just feel like the guys are locked in."
Oats, if the team would prove their toughness against an opponent like Michigan State…
"Yes we have got that. We would have liked to have bounced them out. We were two down on the glass, so our rebound margin wasn't positive like it had been in every game up to that point. But I thought we've done enough tough games, we've made some charges. We also had some tough calls on some of the charges but JQ took the charge late after they called the charge against us which I thought was a big game. We hit the ground to get loose balls.
"I thought our boys played hard. They handled the physicality of the state of Michigan. Michigan State was particularly physical, as we expected. Brandon obviously handled it well. … He still has his. I thought we could spread it out a bit in the second half and get into the color and deal with some of their physicality. We're maybe a bit thinner than them, but I think we have a certain toughness. We've got some guys that are pretty tough, although they might not weigh as much as some of these guys at Michigan State. I was happy with our boys."
Brandon Miller on his first-half performance, three before halftime…
"I felt like those three that I had was definitely a boost of energy for me and I think the team. I'm just starting out, I feel like I could have started better but things are happening. I feel like that was the game changer."
Miller and Quinerly on the game of the Great Alabama – Bediako, Clowney and Gurley…
Miller: "I definitely think we locked ourselves in before the game. We probably saw a lot of film a week before this game, so I think we were well prepared for that. And I think they have weathered the odds really well."
Quinerly: "I think our big ones did a great job. Kudos to Michigan State, they're a really good team. We knew how physically they went in and we knew we had to match that. So, our boys, we were just ready. We were locked down tonight and that's what we're going to bring for the rest of the year."
Did you know that BOL has a podcast? The BamaOnLine podcast brings you the latest Alabama news and insights from Travis Reier, Charlie Potter, Hank South and Tim Watts. Watch the latest episode exactly here or subscribe on iTunes today!
Contact Charlie Potter via personal message or on Twitter (@Charlie_Potter).