Musically, Anchorage is a pretty ephemeral city. It's not uncommon for bands, venues, and even entire scenes to appear and disband seemingly overnight. So if a band sticks around for a while, musicians and concert-goers in the 49th state tend to sit up, pay attention, and attend concerts almost religiously. Local legends of this caliber include groups like metalcore group 36 Crazyfists, ska group Nervis Rex – and thrash metal rockers Decepticide, who have been rocking venues across Alaska for nearly fifteen years.
"1. January 2008," said Ryan Hull, Decepticide's lead singer, of the group's origins. "It was after a New Year's Eve party."
Enzo Montana, Decepticide's guitarist with the requisite long hair of a career headbanger, idly picks out a few chords in the group's small midtown practice room, which is decked out from floor to ceiling with various band flags and posters – Slayer, Metallica, Motörhead.
"The first time I ever saw Enzo was when I was a freshman in high school," said Brian Harris, Decepticide's bearded drummer. "He was sitting on his amp in the canteen playing 'Master of Puppets'."
Harris and Montana both attended Dimond High School along with Mercy Cofield, the guitarist for the Anchorage hardcore band She.
Decepticide was formed from the remnants of Montana's band Murder is Justice, a project that lasted from 2005-2007. Originally a five-piece band with two guitars, Decepticide has been reduced to four members since 2016, with a semi-rotating bassist position recently filled by North Carolina native Josiah Everett, the band's youngest member, who met Hull through a warehouse job and in 2022 took over as bassist.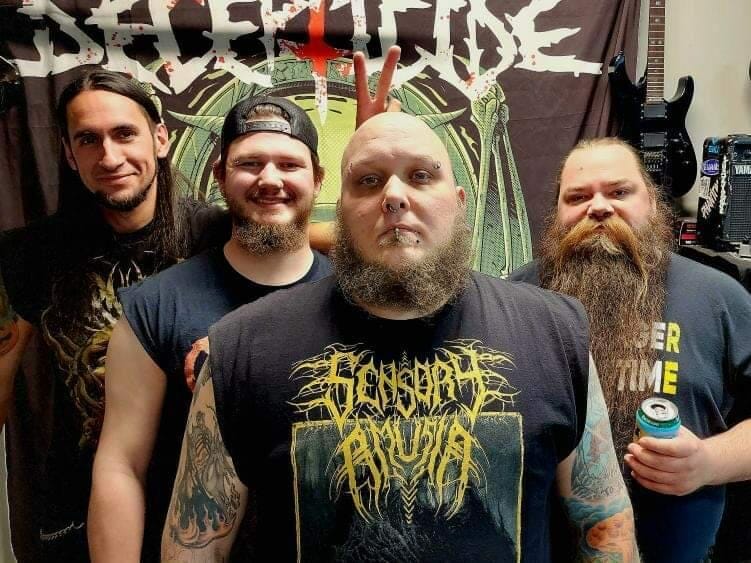 "It's like 'Spinal Tap' with the drummers," Hull said. "We went through a lottery of bass players."
After playing in Anchorage to great success for a few years, Montana wanted to take Decepticide to the next level.
"When we started Decepticide … I really thought we had a chance to be a real metal band, a touring band," Montana said. "At the same time, it's kind of impossible to achieve that here in Alaska."
In 2010 the band relocated to Pennsylvania to tour up and down the east coast of their career. However, personal problems (including the pregnancies of Montana and Hull's girlfriends) hampered their ability to perform.
"We were being pulled back into Alaska from all directions," Montana said.
In October 2010, Montana flew back home to witness the birth of his daughter. The guitarist's desire to break his family history of absent fathers contributed to Decepticide's eventual return to Alaska.
"I called Ryan and said, 'I'm really sorry, but I have to come back,'" Montana said.
"I often joke about this, but Alaska is a black hole," Hull said. "And I don't necessarily mean that in a bad way, but when you leave Alaska, there are so many attractions that draw you back home."
In December 2010 the band was back and since then they have been an Alaskan group.
To some extent, Hull, Montana and Harris do look back on their Pennsylvania experiment — especially considering that by the time Decepticide departed, news of their musical prowess had just reached East Coast promoters.
"A lot of people at first, an Alaskan band, thought we were a gimmick," Hull said. "But our names started getting passed around."
"I got calls from New Jersey, from New York," Montana said. "When we played, we played damn hard."
Had things been different in Pennsylvania, one would have the impression that Decepticide would have been a household name among metalheads given the group's enthusiasm, passion and technical prowess.
Influenced by favorites like Pantera, The Black Dahlia Murder and Lamb of God, Decepticide's sound has remained relatively constant since the group first started playing.
"If you've heard our music," Montana said, "it's evolved but not changed drastically. I think it's gotten heavier and faster, but it hasn't changed to something you can't tell."
One of the biggest issues with the local music scene that Decepticide pointed out was the lack of all-ages venues in Anchorage.
"It's not a garnish for a new generation of bands to play," Hull said, "because they have nowhere to play."
There have been a range of venues for all ages, from the Paddleboat Cafe to Anchorage Community Works, but for one reason or another they have either closed or otherwise become inaccessible to Anchorage's youth. Without a reliable venue for the under 21 audience to access aggressive live music, there is no guarantee that metal, hardcore and punk will continue to exist in our city.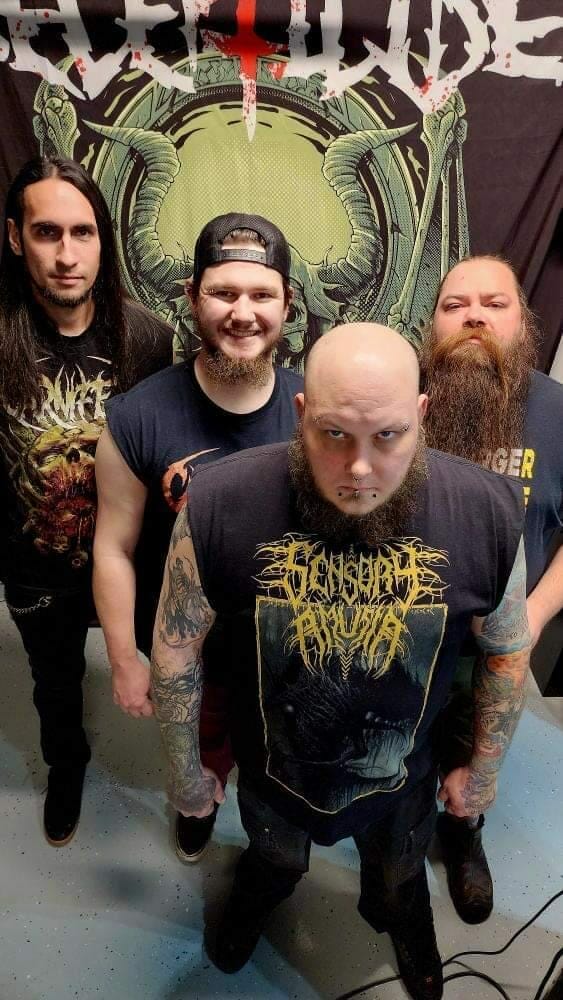 "If Enzo and I didn't have a place to play when we came upstairs," Harris said, "this never would have happened."
As such, bars have become the norm as there is no venue for under 21s.
"Right now, Chilkoot Charlie's is the only place we can actually get in and throw a show," Montana said. "I think our second home is the Carousel Lounge."
Chilkoot's, the band admits, has been good to them, as has Sarah Pederson, a local heavy metal promoter. Decepticide recently played a benefit set at the bar along with several other members of the anchorage metal scene in support of Pederson, who is currently battling cancer.
"The north stage at Koot's," said Hull, "that's my favorite. It's always good sound, good times, good people."
By the way, the first time I saw Decepticide live was at this benefit show in Chilkoot. Their set was electric, energetic and loud as hell. Hull whirled shrieking back and forth across the small stage while Montana sent power chords through the venue. Harris' drum fills and bass kicks were like machines from a giant sound factory, while beneath it all, Everett's bassline thumped like a pounding heartbeat. Supported by other local hardcore and metal acts, including Part Time Super Heroes and Mindful Khaos, Decepticide embodied some of Anchorage's finest thrashers.
With the exception of Everett (whom Hull credits as the band's adopted son), the members of Decepticide are all family members, which affects their musical schedule and lifestyle. But that doesn't detract from the bond the band members have worked to maintain.
"Right now, with full-time jobs and full-time families, that's the time we can actually interact as a group, outside of the shows," Hull said, referring to the band's practice. "This is where we meet and this is where we can continue our brotherhood and friendships. See you here."
"If I didn't have that," Harris asked, "what the hell would I have?"
Outside of their families, Decepticide is the group's most important project.
"We're doing this," Hull said, "because we can't."
The band's path to metal was almost pre-programmed. Hull's first foray into thrash came in the form of 2 CDs from a friend – Pantera's Cowboys From Hell and Slayer's Diabolus in Musica.
"[Metal's] the only genre of music that gives me goosebumps," said Hull. "I can't imagine my life without her. It's literally all I hear."
Harris remembers a tape they picked up on the school bus in third grade – "Americana" by The Offspring.
"I played it very loud, sang it very loud, and it was full of nasty, rude words," Harris said. "It's been a really long road. I don't know how to tell you how I got to where I am. I can tell you my biggest influences have been The Offspring, AC/DC, CKY, The Black Dahlia Murder."
Montana pointed to influences like Shadows Fall, Lamb of God, Sepultura and of course Metallica – a touchstone for any metal band since Kill 'Em All was released and changed the game forever.
Everett recalls video games like Guitar Hero shaping his experience of heavy metal as a kid – something many younger musicians coming of age in a digital age can relate to. Pop-punk like Blink-182 and The Offspring also influenced the bassist's sound,
"Growing up, my mom was always playing Motley Crüe, Def Leppard, Poison and shit like that in the car," Everett said. "I was listening to Cannibal Corpse, Dying Fetus, Autopsy when I was twelve."
When it comes to the best of thrash metal's "Big 4" – Metallica, Slayer, Anthrax and Megadeth – Hull and Everett are firmly in the Metallica camp, while Montana and Harris vouch for Slayer's supremacy.
"I can't take anything from Slayer and compare it to 'Battery' or 'For Whom The Bell Tolls,'" argued Hull.
"[Slayer] stayed true to himself," Montana said.
Authenticity is important to every band member, and one thing is obvious to anyone who's attended one of their shows – Decepticide's love of the game. Hull, Harris, Montana and Everett play every show with heart, enthusiasm and genuine respect for the bands before them. In every bass riff, guitar lick, drum fill and vocal squeal you'll find a high schooler learning the chords to "Master of Puppets" between classes – and so the music scene evolves and spreads from generation to generation, regardless of venue or genre.
You can find Decepticide on Facebook (https://www.facebook.com/decepticide) and Instagram (@decepticide). The band have tentative plans for a 15th anniversary show in January and will be releasing more details on social media once the events wrap up.