WHITEFISH — Montana Western quarterback Jon Jund and Carroll defenseman Garrett Kocab were named Frontier Conference Player of the Year Monday after top-notch senior campaigns.
Jund, again the conference's top offense, led the Bulldogs to a 7-4 overall record and 6-4 in league play.
Jund threw for 2,401 yards and 22 touchdowns in 11 games. He was Western's second-leading rusher with 502 yards and another nine points.
He paced the conference in passing yards, yards per game (218.3), passing touchdowns and was second in efficiency (142.9).
In his final game as a Bulldog, Jund eclipsed 100 career touchdowns and finished his career just five minutes short of a program record, according to Western records.
Jund was also nominated for NAIA Player of the Year.
Kocab, as a man in the middle, anchored Carroll's strong running defense on his way to Defensive Player of the Year this season.
The sixth-grader had 58 tackles in 11 games and recorded 3.5 sacks. Nine tackles were for a loss of yardage and Kocab was credited with three pass break-ups and a blocked extra point try.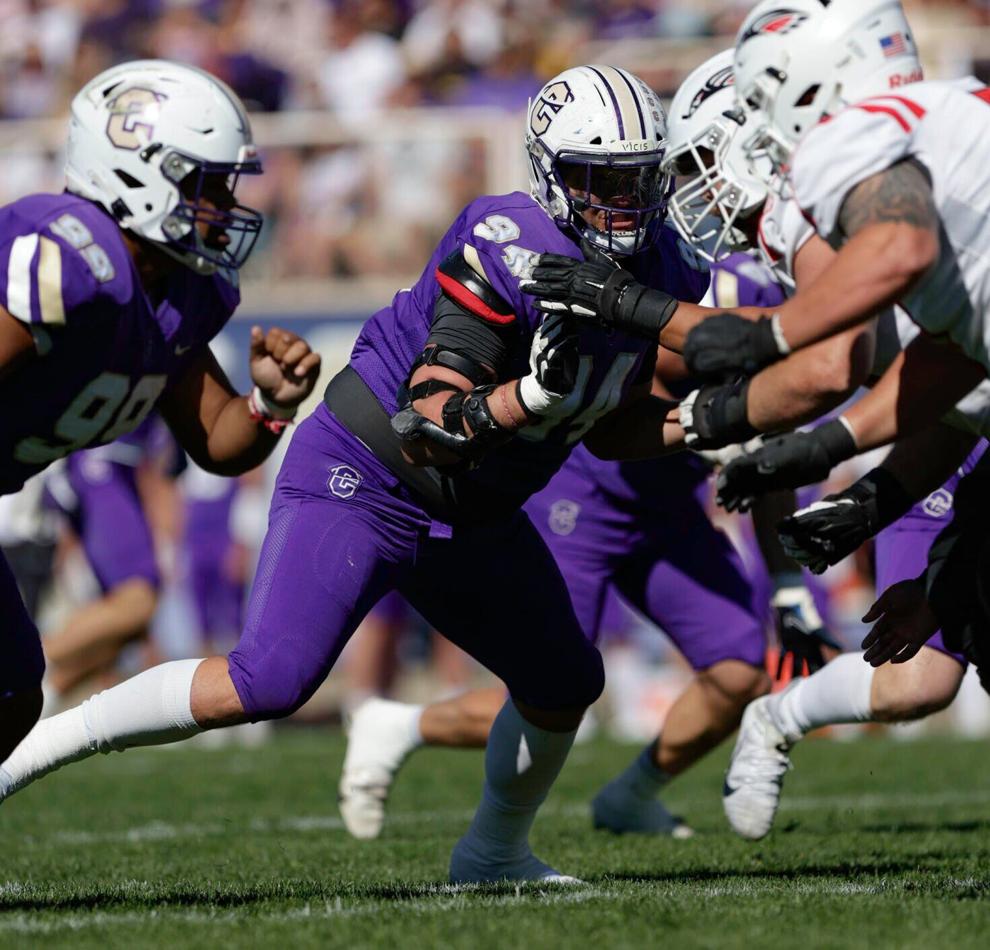 Kocab was team captain in his senior season and finished the year eighth in the Frontier in TFL.
Carroll's rush defense was in the league in rush yards allowed per game (77), goal defense (13.6 PPG), yards allowed per game (236.9) and pass defense (159.9) second
For the second time in his four-year tenure as Carroll College's head football coach, Troy Purcell was named Frontier Coach of the Year.
Purcell led the Saints to their fourth straight season and to a berth in the NAIA Football Championship Series for the second time in three seasons. Carroll started Grand View in 2nd place in the opening round of the playoffs, losing by a field goal margin.
Still, Carroll ended his season with an 8-3 record as Frontier co-champion and his most wins of the season since 2014.
Carroll is 23-13 (.639) in four seasons under Purcell.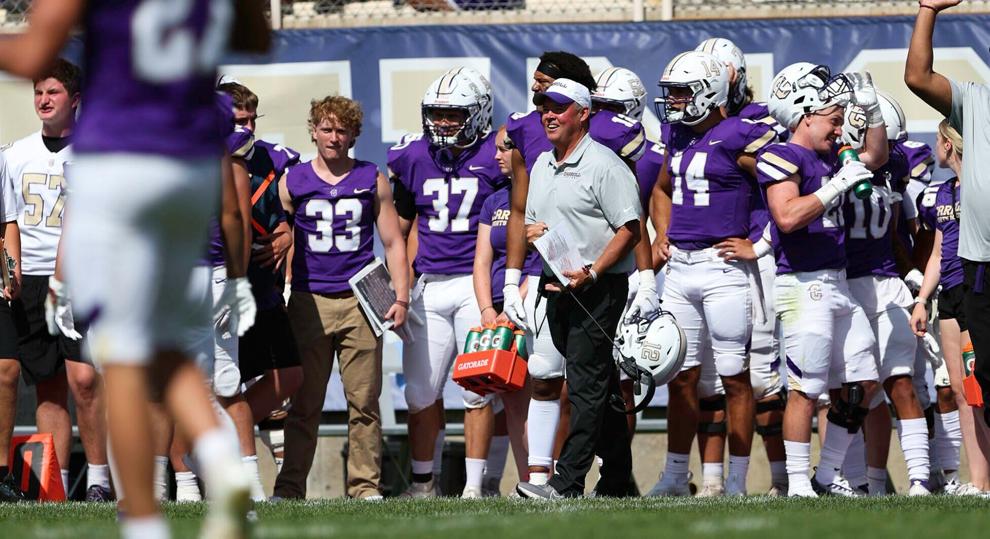 Choice for all conferences
First team attack
Jon JundQB, Montana Western – 189-for-313 passing, 2,401 yards, 22 TD, 8 INT – 502 rushing yards, 9 TDs
Blake countsRB, Montana Tech – 803 rushing yards, 6 TDs
Reese NevilleRB, Montana Western — 1,065 rushing yards, 9 TDs
Andrew SimonTE, Rocky Mountain College – 37 receptions, 351 yards, 0 TDs
Trevor HoffmanWR, Montana Tech – 50 receptions, 757 yards, 6 TDs
Bryce GogginWR, Southern Oregon — 43 receptions, 551 yards, 4 TDs
Christian GreneyWR, Southern Oregon – 48 receptions, 695 yards, 5 TDs
Andrew CarterOL, Carroll – 2-time first-team selection
Ryan HalfordOL, College of Idaho – 3-time all-conference selection
Garret RehbergOL, College of Idaho – 2-time all-conference selection
Jack HillerOL, Montana Tech – First all-conference selection
Noah DanielsonOL, Montana Western – 3-time all-conference selection
First team defense
Garret KocabDL, Carroll – 58 tackles, 3.5 sacks, 9 TFL
Keagan McCoyDL, College of Idaho – 42 tackles, 8 sacks, 10 TFL, 1 forced fumble
Keyshawn James-NewbyDL, Montana Tech – 61 tackles, 9 sacks, 14.5 TFL, 1 forced fumble, 2 fumble recoveries
Wes MoeaiDL, Rocky Mountain College – 52 tackles, 2 sacks, 7 TFL, 1 forced fumble
Dylan MartinezLB, College of Idaho – 63 tackles, 2.5 sacks, 7 TFL, 2 forced fumbles
Solo TaylorLB, Eastern Oregon — 69 tackles, 2.5 sacks, 4 TFL, 1 forced fumble, 1 INT
Dylan WamplerLB, MSU-Northern — 91 tackles, 4.5 sacks, 9 TFL, 2 forced fumbles, 1 fumble recovery, 1 INT
Nolan McCaffertyLB, Rocky Mountain College – 68 tackles, 1 sack, 9 TFL, 1 fumble recovery
Jake ReginoLB, Southern Oregon — 113 tackles, 2.5 sacks, 9.5 TFL, 1 forced fumble, 2 INTs
Dorian HardinDB, College of Idaho – 45 tackles, 1 forced fumble, 3 INTs, 14 pass breakups
Naoki HarmerDB, Montana Tech – 75 tackles, 0.5 sack, 6 TFL, 2 forced fumbles, 1 fumble recovery, 1 INT, 8 pass break-ups
Jordan WashingtonDB, Montana Tech – 43 tackles, 0.5 sack, 2 TFL, 1 forced fumble, 9 pass break-ups
Kaysan BarnettDB, Rocky Mountain College – 38 tackles, 0.5 TFL, 5 INTs, 9 pass breakups
First-team special teams
Spencer BergerK, Carroll – 8 for 11 FG, 26 for 30 XPT
Ryan LowryK, Montana Tech – 11-for-16 FG, 44-for-45 XPT
Andrew AlmosP, Montana Tech – 42.3-yard punt average, long 64, 21 punts inside the 20-yard line
Stoke's BotelhoKR/PR, Southern Oregon — 23.9 yard KR average, 1 TD, 10.3 yard PR average
Second team attack
Blake ThelenQB, Montana Tech – 86 passes to 161, 1,375 yards, 12 TDs, 4 INTs –
Matthew BurgessRB, Carroll – 576 rushing yards, 5 TDs
Allamar AlexanderRB, College of Idaho – 804 rushing yards, 5 TDs
Tony CollinsTE, Carroll — 43 receptions, 646 yards, 4 TDs
Rock RichardsonWR, College of Idaho – 44 receptions, 612 yards, 5 TDs
Kyle TorgersonWR, Montana Tech – 45 receptions, 709 yards, 3 TDs
Trey mountsWR, Montana Western — 43 receptions, 599 yards, 7 TDs
Hunter MechamOL, Carroll – 3-time all-conference selection
Connor QuickOL, Carroll – First all-conference selection
Carson ShumanOL, Montana Tech – First all-conference selection
Stason MakailaOL, Rocky Mountain College – First all-conference selection
Hunter GeisslerOL, Southern Oregon – First all-conference selection
Defense of the second team
Garret WordenDL, Carroll – 39 tackles, 6 sacks, 13.5 TFL, 1 forced fumble, 1 fumble recovery
Alex OjukwuDL, College of Idaho — 27 tackles, 3.5 sacks, 6.5 TFL, 2 fumble recoveries
Reese ArtzDL, Montana Western – 58 tackles, 7 sacks, 12.5 TFL, 2 forced fumbles, 1 fumble recovery
Tanner HarrellDL, Montana Western — 50 tackles, 8.5 sacks, 12.5 TFL, 1 forced fumble
Rex IrbyLB, Carroll – 26 tackles, 1 sack, 1 TFL, 2 INTs
Zak DonatoLB, Eastern Oregon — 80 tackles, 8.5 TFL, 1 forced fumble, 1 fumble recovery, 2 INTs
Ben WindauerLB, Montana Tech – 55 tackles, 1.5 sacks, 4.5 TFL, 1 fumble recovery, 1 INT
Zach SpiroffDB, Carroll – 37 tackles, 1.5 TFL, 1 forced fumble, 1 fumble recovery, 3 INTs
Jakob BatubengaDB, College of Idaho – 48 tackles, 5 pass breakups
Keegan CroteauDB, College of Idaho – 41 tackles, 4 INTs
DeShawn CraigDB, Southern Oregon – 23 tackles, 1 sack, 1 TFL, 6 pass break-ups
Second team special teams
Wyatt BrusvenP, Rocky Mountain College – 41-yard punt average, 62 long, 18 punts inside the 20-yard line
Kyle TorgersonKR, Montana Tech – 27.2-yard average, long 64
Kaysan BarnettPR, Rocky Mountain College – 13.2 yard average, 1 TD, long 70