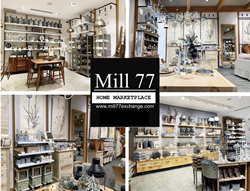 "We are excited to offer our customers in the greater Nashua NH area our unique brand of vintage-inspired home furnishings," said Julie Bergeron,

NASHUA, NH (PRWEB)
January 25, 2023
Mill 77 Holdings LLC has announced the expansion of its Mill 77 Home Marketplace brand and is expanding its presence in New England with the opening of its newest New Hampshire location in Nashua, scheduled for March 2023. A former AC Moore location, this new location spans 21,000 square feet. This new location in Nashua NH will be the brand's largest location to date.
"Based on the success and acceptance of our North Hampton, New Hampshire location, which opened this past April, this 'super store size' is the look and feel of our future," said Founder Gary Bergeron. "Today's customer is looking for a quality product and also a quality experience. I believe our newest locations offer them just that. Regardless of the internet, there is still a need for this locally owned and operated home furnishings business. At Mill 77 Exchange, our customers receive the best quality, choice and value we can find for them. This is the 5th location we have opened in the last few years and even through the difficulties of Covid we have evolved and it has worked. The general public likes our 'Made in America' furniture". Mill 77 offers a personally curated selection of locally made and imported vintage-inspired furniture, décor and textiles and more.
Much of Mill 77's furniture is handcrafted in the United States. Their line of products includes items that are handcrafted in their own custom build shop. Mill 77 currently has locations in Newburyport, MA and Lafayette Plaza in North Hampton, NH.
Mill 77 was formed in 2010 when owners Gary Bergeron and his wife Julie 'outsourced' their previous careers. Like many people at the time, this outsourcing resulted in moving out of her family home. While looking for a place to sell their furniture, an idea came up. Mill 77 started out using each and every piece of furniture owned by the couple as inventory and has grown into a locally popular specialty home decor shop showcasing high quality, recycled, industrial and bespoke furniture. Passionate about all things vintage, the successful family business that Gary and Julie run with their children and grandchildren takes customers' inspiration and blends it with their own imaginations to offer the most unique collection of products.
"We are excited to offer our customers in the greater Nashua, New Hampshire area our unique brand of vintage-inspired home furnishings," said Julie Bergeron, co-owner of Mill 77. "As a 'Family First' business, Mill 77 is a place where our children and grandchildren work with us to keep our family dream alive. We look forward to sharing our passion with the NH community."
Share the article on social media or via email: