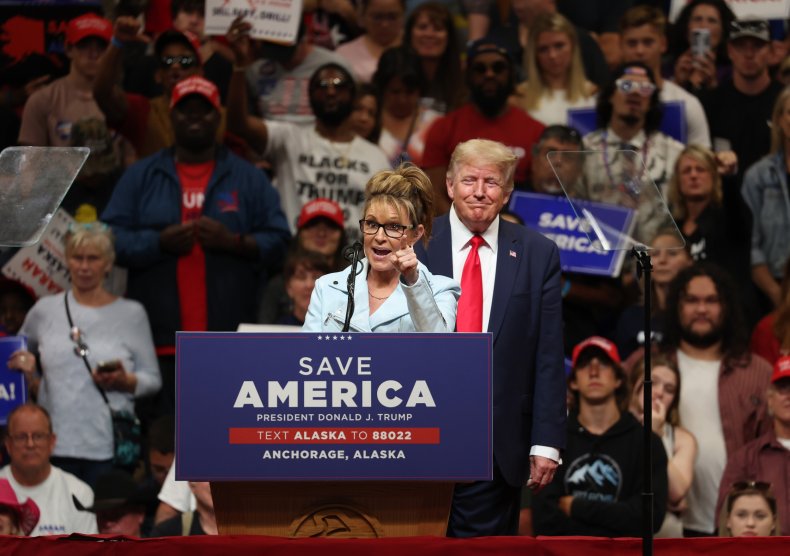 Republican candidates backed by former President Donald Trump in Alaska lost their elections, joining a list of other high-profile Trump-backed hopefuls who failed at this year's Midterms.
Democrat Mary Peltola, Alaska's at-large U.S. Representative, was elected to a full term after the Alaska Division of Elections released a final vote count and ranking electoral roll on Wednesday. She defeated Trump-backed Republican nominee Sarah Palin, the former governor of Alaska and 2008 GOP nominee for vice president.
Incumbent GOP Sen. Lisa Murkowski also emerged victorious after a challenge came from Trump supporter Kelly Tshibaka, a self-proclaimed "America first" Republican. Murkowski became a frequent target for the former president after she voted to impeach him for his activities related to the January 6 uprising.
Tshibaka's defeat follows losses in the US Senate election at the hands of fellow Trump supporter Blake Masters of Arizona; Mehmet Oz of Pennsylvania; Leora Levy of Connecticut; Don Bolduc of New Hampshire; Gerald Molloy of Vermont; and Adam Laxalt of Nevada.
Along with Palin, Trump-backed candidates for the US House of Representatives who lost include: Joe Kent of Washington State; Bo Hines and Sandy Smith of North Carolina; John Gibbs of Michigan; Kelly Cooper from Arizona; Karoline Leavitt and Bob Burns of New Hampshire; Madison Gesiotto Gilbert, JR Majewski and Steve Chabot from Ohio; Jim Bognet of Pennsylvania; and Yesli Vega of Virginia.
Republican gubernatorial candidates who lost their election after being endorsed by the former president include Arizona's Kari Lake; Tudor Dixon of Michigan; Doug Mastriano of Pennsylvania; and Tim Michels of Wisconsin.
A number of other high-profile candidates supported by Trump also lost their elections to influential state offices such as secretary of state and attorney general.
Trump's failure to endorse has drawn significant backlash from some Republicans, including those who have called on the party to back away from the former president after midterm despite his announcement of a third presidential bid.
Many who have previously supported Trump have recently suggested Republican Florida Gov. Ron DeSantis as their preferred candidate for 2024, who has not announced his candidacy.
"Trump voters are sick and tired of all the Trump-focused hysteria, and they want someone different, and they see Ron DeSantis as different at this point," GOP poll researcher Frank Luntz said during an MSNBC interview this week.
The former president has insisted his halftime pick was a "huge success," while lamenting a lack of "congratulations or praise" from Republicans. He has also claimed, without evidence, that some of his backed candidates were victims of "electoral fraud."
In addition, Trump has pointed out that a large majority of his candidates won their elections. However, he has failed to realize that most of his winning supporters ran in heavily Republican areas and would have expected victory regardless of his endorsement.
news week has reached out to Trump's office for comment.