November 22, 2022
**Previously: Shaheen Speaks at Families in Transition's Annual Thanksgiving Breakfast and Participates in Toys for Tots 37th Annual Kickoff Campaign**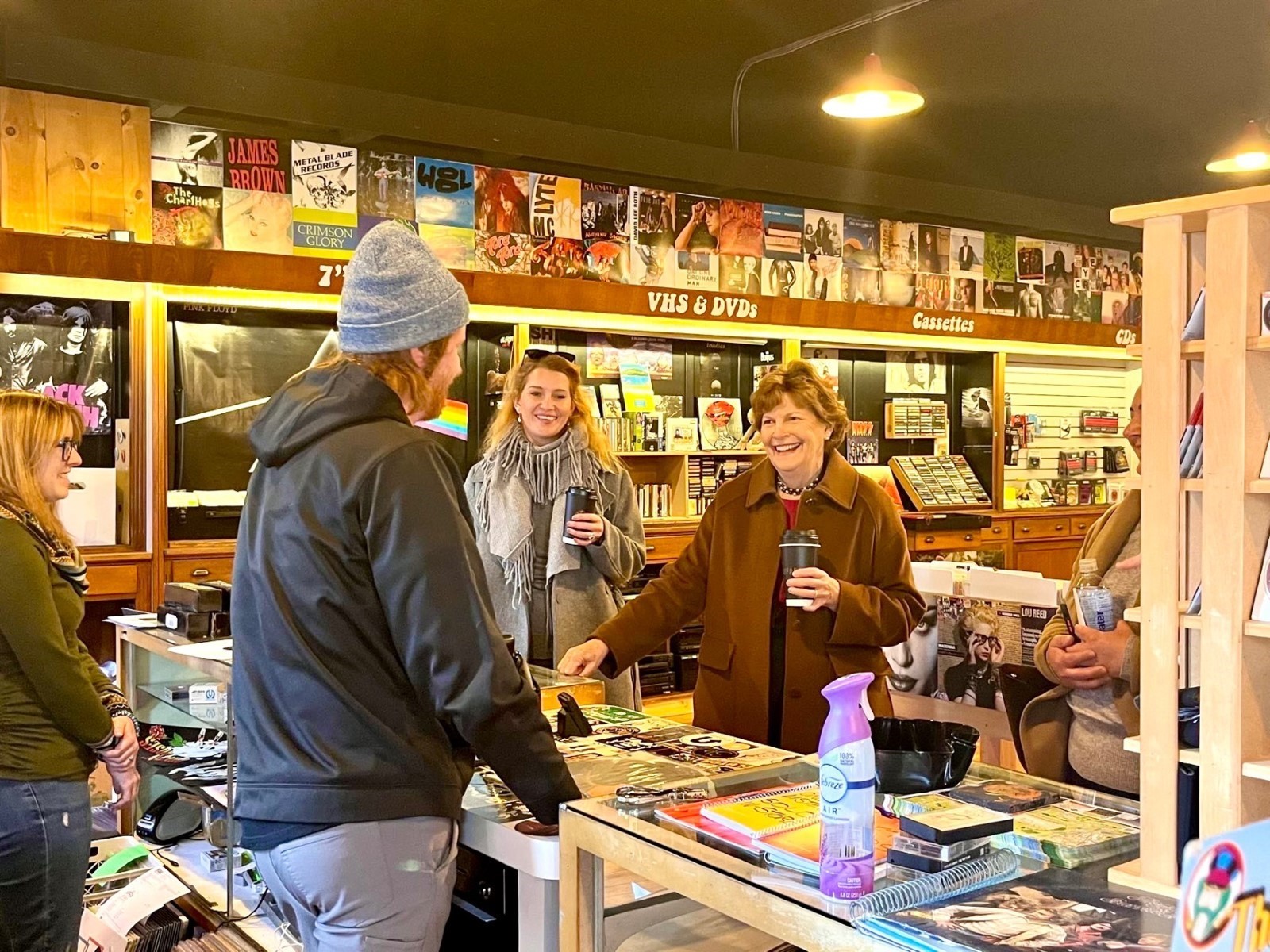 Shaheen stopped at small businesses in Laconia ahead of Small Business Saturday.
Shaheen spoke at Families in Transition's annual Thanksgiving breakfast.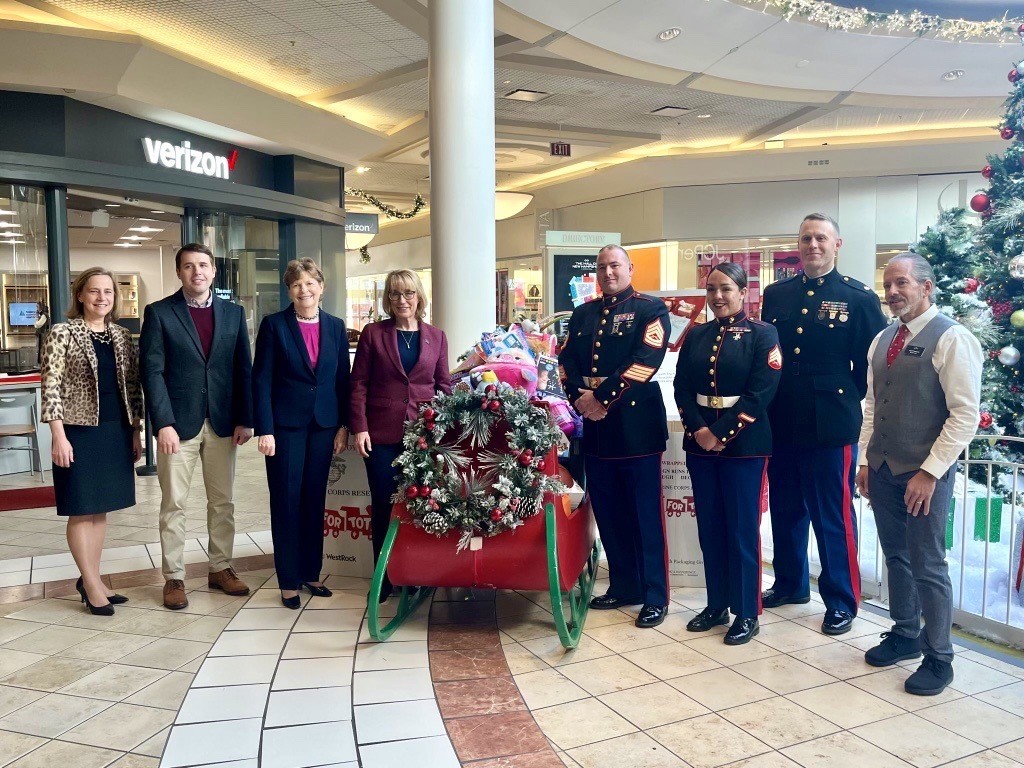 Shaheen at the 37th Annual Toys for Tots Campaign Launch.
(Laconia, NH) – Today US Senator Jeanne Shaheen (D-NH) visited small businesses in Laconia ahead of Small Business Saturday. Held on the Saturday after Thanksgiving every year, Small Business Saturday encourages shoppers to support local retailers during the holiday season. Shaheen, a senior member of the Senate Small Business and Entrepreneurship Committee, spoke to the New Hampshire Small Business Administration (SBA) and local officials about the importance of supporting small businesses and visited the Colonial Theater, Wayfarer Coffee Roasters, NH Vintage Vinyl and Piedmont print and frame.
"Small businesses are the heart of our communities and drive economic growth in our state and it was great to hear directly from small business owners in Laconia today. Small Business Saturday is always an important opportunity to show our appreciation for the small business community by visiting important local institutions and shopping at our favorite local stores during the holiday season." said Shaheen. "I will continue to work in the Senate to ensure small business owners get the support they need to innovate and grow."
As a senior member of the Senate Committee on Small Business and Entrepreneurship and a former small business owner, Senator Shaheen is a staunch advocate for small businesses in New Hampshire. Their bipartisan bill, The One Stop Shop for Small Business Compliance Act, was recently signed into law to require the SBA to create a centralized website containing compliance guides to federal regulations affecting small businesses. During the COVID-19 pandemic, Shaheen worked to equip small businesses with the resources they needed to weather and recover from the economic impact and led negotiations on provisions in the CARES (Coronavirus Aid, Relief and Economic Security), which introduced the Paycheck Protection Program (PPP) and expanded the Economic Injury Disaster Loan Program, both of which have been lifelines for businesses throughout New Hampshire and across the country.
This morning Senator Shaheen attended Families in Transition's annual Thanksgiving breakfast in Manchester. She delivered remarks on homelessness and food insecurity. Families in Transition operates more than 25 facilities in New Hampshire, the largest adult shelter in the state, two shelters for families and a substance abuse treatment center. In 2020, Families in Transition opened a pantry in Manchester to address food insecurity during the pandemic, serving 1,000 households in October 2022.
"The housing crisis is at an all-time high in New Hampshire, and especially as winter approaches, we need a comprehensive approach to help families find a safe place to call home. I'm grateful for organizations like Families in Transition who are working on the frontlines to support endangered Granite Staters. I am committed to providing the resources needed to help families in need and to ensure every Granite Stater has a roof over their head and food on the table." said Shaheen.
Senator Shaheen is a Senate leader dedicated to tackling homelessness and supporting at-risk Granite Staters. Most recently, she led the delegation in announcing additional rental assistance from the US Treasury Department through the Emergency Rental Assistance (ERA) program. These funds were approved by Congressional Democrats' American Rescue Plan Act and signed into law by President Biden to help New Hampshire renters with rent and other housing costs, including energy and utilities. She also spearheaded legislation to ensure thousands of low-income renters in rural areas continued to have access to safe and affordable housing. Shaheen has fought to protect New Hampshire homeowners and renters who have been left vulnerable by the COVID-19 public health emergency. America's bailout plan, passed in March 2021, earmarked nearly $50 billion for housing, including support for vulnerable renters and homeowners. This is in addition to the COVID-19 emergency assistance legislation that went into effect in December 2020, which provided $25 billion in rental assistance for emergencies.
Also this morning, Shaheen delivered remarks on April 37th Annual launch of the Toys for Tots campaign at the Mall of New Hampshire. This event marks the start of the Marine Toys for Tots Foundation's campaign for the upcoming holiday season, sponsored by Bravo Co., 1st Battalion, 25th Marine Regiment based in Londonderry.
"I always enjoy taking part in the Toys for Tots kickoff campaign that marks the start of the Christmas gifting season. I am grateful to the US Marine Corps and the local retail community for making this ride possible so that every child can experience joy and feel included in the holiday celebrations. This wonderful program embodies the true spirit of this season," said Shaheen.
###
---
---
previous article